It's Midnight Somewhere! "Lift Me Higher" is Out Now on all Streaming Platforms!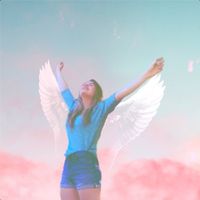 August 20th has finally arrived, and "Lift Me Higher" is now available to listen to on Spotify, Apple Music, or a streaming platform of your choice. I'm so happy with how this version of the song turned out, and I hope you'll love it as much as I do. 
I'm dedicating this release to my late Poppop, Robert Donzelli, who uplifted everyone with his laughter and always supported my music. 
A lot of things influenced the making of this song. My step-sister and brother-in-law had asked me to write a love song for their wedding, and I'm so happy that they did. When I wrote "Lift Me Higher," I tried my best to draw on some of the sources of love and passion in my life. I was just beginning to reconnect with my love of songwriting after recovering from a severe injury that had made it impossible to play piano for several months. It felt so freeing to finally be able to play piano again without pain. Still, I was worried about the future and if I'd still be able to compose as much as I wanted to, but the love and support of my family and friends (and a good physical therapist) got me through it.
That experience reminded me to be patient with myself and my dreams, and that there are different ways we can still do what we love. When life gets in the way and new obstacles arise (or old ones resurface), I try to remind myself of my dad's advice: "there's no straight path to success." I hope that this song makes you think of the people in your life who make it all worth it, and I hope you'll hold on to whoever or whatever it is that brings you joy and lifts you higher.